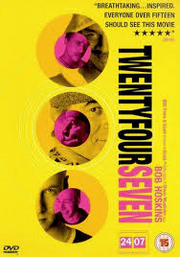 Twenty Four Seven is a 1997 British film written and directed by Shane Meadows. This is Shane's second feature film. Shane also directed the 2006 film "This Is England". It was co-written by Paul Freiser. 24/7 has almost the same similarities as the 2000 American football film "Remember The Titians".
Plot
It's been three years since the events of This Is England 90. John Major is now the new prime minister and the British economy is starting to improve but not all of England has recovered. In November 1993, in a typical English working-class town, the young people in town have nothing more to do than hang around in gangs. Later on, Alan Darcy (Bob Hoskins), a highly motivated man with the same kind of youth experience, starts trying to get the young people off the street and into doing something they can believe in: Boxing. Soon he opens a training facility which is accepted gratefully by them and the gangs start to grow together into friends. Darcy manages to organize a public fight for them to prove what they have learned. A training camp with hiking tours into the mountains of Wales forge the group into a tight-knit club society. With the day of the fight drawing closer, the young boxers get more and more excited. Years later in April 1998, Tony Blair is now prime minister, the British economy is good, and Tim (Danny Nussbaum) finds Darcy at his place of resenence. Tim phones everybody to come to Darcy's funeral.
Cast
Community content is available under
CC-BY-SA
unless otherwise noted.